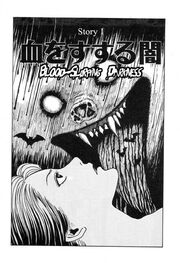 Also titled The Dark Drinks Blood. Chapter 1 of Voices in the Dark.
Plot
When Nami's boyfriend breaks up with her, she begins obsessively dieting and develops an eating disorder. Her bulimia causes her to vomit blood. One night, she dreams that it begins raining blood around her. She falls over and a sinister hand reaches to grab her. On waking up she sees blood all over her bed and assumes she vomited in her sleep.
A boy approaches her on her way to school and introduces himself as Kazuya Tani. He is worried about her weight loss and wants to be her friend, encouraging her to talk to him. Nami brushes him off. A while later, she meets him again, now horribly thin. Nami is shocked but he explains that since she's not eating, he will also refuse to eat in an effort to win her heart. Meanwhile, she continues to have the dream about the blood, and always finds blood on her bed when she wakes.
Kazuya tells Nami he has something to show her. He takes her to a shed full of vampire bats. He says he lied about the diet, instead he got thin through giving them his blood and then sending them to Nami's room to feed her with it in the hope she would start to gain weight again. Nami vomits and runs from the shed. Kazuya chases her across a railway track but is hit by a train and killed. The bats suck up his blood, trying to use it to re-animate his body parts.
Nami wakes in hospital where she discovers she has been bitten all over by the bats. That night, after she has been discharged, the bats break into her room at home. They chase her outside where she hears Kazuya's voice calling to her, crying that he doesn't have enough blood. She trails the voice and finds Kazuya's re-animated corpse lying in a bush. Nami tries to help him but is attacked by a giant vampire bat. It and all the others fly up into the sky, whereupon blood starts to rain just like in her dream.
Community content is available under
CC-BY-SA
unless otherwise noted.