Obi-Wan Finale - The Loop
Play Sound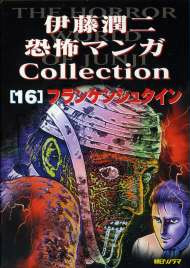 Frankenstein is the sixteenth volume in the Horror World of Junji Ito series. It is an adaptation of the Mary Shelley novel Frankenstein; or, The Modern Prometheus. It was originally published in Japan in three parts from 1994 to 1998. The collected edition was first published in 1998. To date, it has not been released officially in English, but has been scanlated in its entirety. The Cherished Collection, a re-print from 2000, contains two added chapters: Ito Junji's Dog Diary (detailing Ito's experiences of owning a dog named Lulu), and Fixed Face.
Frankenstein
Junji Ito's adaption of the classic novel by Mary Shelley.
A Doll's Hellish Burial
Also titled Hell'o Dollies. 
In this story, children have begun falling victim to early onset "doll's disease" which causes them to slowly turn into doll-like structures incapable of movement or speech. When a young girl named Maria falls victim to the disease, her parents try to console themselves with the thought that she will always look like a beautiful doll, and can remain with them forever. They cannot understand why the parents of other victims of the disease throw their children away. However, when Maria continues to grotesquely decay and mutate, including growing tentacles and hideously elongated limbs, her parents are forced to finally lay her to rest.
A Shit to Remember
An autobiographical account of a festival where a young Junji Ito finds a fake plastic shit that he knows he must have. A hurricane of puns ensue as Ito details what happened after he purchased it.