WELCOME TO THE JUNJI ITO WIKI
Help
•
Terms of Use
•
Wanted Pages
•
Categories
This wiki serves as the official collaborative database about Junji Ito's horror manga, and anyone can edit! Not sure where to start? Pick a page at random! Can't find what you're looking for? Make a new page! If you have any questions, you can write to our admin!
FEATURED VIDEO
Click here to learn more!
ABOUT THE AUTHOR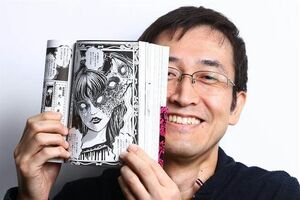 Junji Ito is a Japanese horror manga artist. Some of his most notable works include Tomie, a series chronicling an immortal girl who drives her stricken admirers to madness; Uzumaki, a three-volume series about a town obsessed with spirals; and Gyo, a two-volume story where fish are controlled by a strain of sentient bacteria called "the death stench.". Many of his works have been adapted for film such as Uzumaki and Tomie.